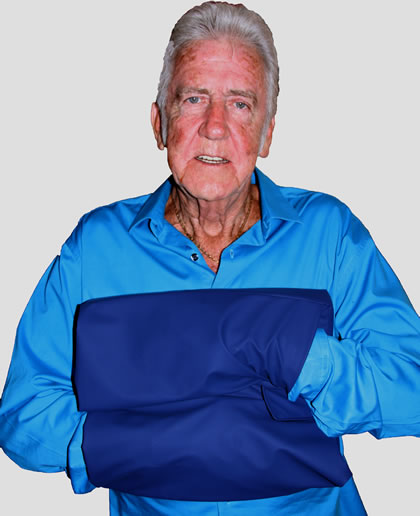 Buy The POST-OP PILLOW Brace Here
For international orders, email us with your order and complete
address and we will send you back shipping pricing for the orders.
HOW IT WORKS
By inserting your arms into the sleeves and hugging yourself, your pain level will be reduced by a minimum of 50%. Post Op Pillow Brace is a pillow used after any type of chest/abdominal/front torso surgery to provide a gentle pressure that helps alleviate that post surgical pain! It will also help your recovery, have you up and walking sooner, and help with an earlier hospital release date!
MY STORY
After my surgery and recovery from rectal cancer, I was told that I needed a Bowel Resection operation (remove part of my bowel, use a temporary ostomy bag, and then surgery once again after 6-8 weeks to reconnect me)! The only relief offered by the hospital after this surgery was pain medication. After 6 weeks I was scheduled to have surgery to eliminate the ostomy bag and reconnect my bowels. Before my surgery I had learned about the heart pillow for post heart surgery patients.
I thought then why not a universal post op pillow brace to help relieve a post op pain from a variety of surgeries, and one that would certainly help me with my upcoming surgery. Upon doing more research I found that post surgical relief can be had through slight pressure applied to the area that was cut open. Hence I made a decision to make a post op pillow brace just for my personal use to help with pain relief. And believe me, the pain was so excruciating, worse than any pain I suffered during my cancer treatments and after!
The results were instantaneous and far exceeded my expectations or the hospital staff! My pain levels were reduced by at least 50% and I could walk, and talk, and laugh and sneeze once again, without fear of going through the roof with pain! I then passed on my post op pillow brace to friends and family that were having future operations: one for a hernia; one for a kidney and one for open heart surgery.
The feedback was all the same: POSITIVE! AND RELIEF FROM EXCRUCIATING POST SURGICAL PAIN!
THE VIDEO
Please watch the attached short video for a demonstration on the Post Op Pillow Brace so that you can get the true picture and so that you are informed for either yourself or for a loved one facing future surgery. You will also hear about one of my other inventions, the Ultimate Chin Strap for mouth breathers, like myself, for either Snoring or Sleep Apnea. All products can be found on my website.
The Post Op Pillow Brace is made in the USA, specifically in south Florida, of hospital grade material that is also made in the USA! It attaches with a single strap around your chest or your waist..hence your hands free otherwise! It allows for a sure grip through hand compartments. It is flexible, soft and easy to wash. It weighs less than a half pound and will provide at least 50% post surgery relief!
And once you or a loved one has used it for their post surgery relief, you will surely want to pass it on to other loved ones for their surgeries as well! It will continue to help for years to come!
My operations took place at Cleveland Clinic Hospital in Weston, Florida. My discussions with my colorectal surgeon, heart surgeons, and others confirmed the need for such a pillow brace after surgery. Not only do I want you the consumer to have access to this very crucial product, which can be found on my website. I also want it available to the world at large! Why not have all the surgery patients benefit from such a product just like I did and my family as well!
I believe that the Post Op Pillow Brace should be available in every facility that performs surgeries, like a brace for a broken arm or like a bandage for a cut. It is that crucial to a speedier recovery! I need to reach those institutions that perform the various surgeries so that they too can be made aware of this beneficial product for their patients and so that they can have access to it and offer it post surgery.
I may be reached directly if you would like to discuss this even further or require more information and my toll free number is #1-800-264-4883. Thank you for taking the time out of your day to read and listen to my story.
Bottom line is that it's all about our health, being proactive and passing on information to others that would greatly benefit them health wise! We all want to live well and live pain free. I thought that I would leave my mark with the Ultimate Chin Strap but with the Post Op Pillow Brace, I truly believe it will be a great help to humanity and the best contribution I could hope or ever imagine I could make to humanity.
! Lets make this a reality together! Thank You!